Household Hazardous Waste
HOUSEHOLD HAZARDOUS WASTE (HHW) & PAINT
The Foothills Regional Landfill and Resource Recovery Centre (LRRC) accepts household hazardous waste (paint, cleaning solvent, chemicals etc.)
We do not accept industrial waste, radioactive waste, explosives, fire works, or ammunition. See below for details.
Leftover household products that contain corrosive, toxic, ignitable or reactive ingredients are considered to be household hazardous waste (HHW). Products, such as paints, cleaners, oils, batteries and pesticides that contain potentially hazardous ingredients require special care when you dispose of them. Improper disposal of these wastes can pollute the environment and pose a threat to animals, plants and human health. Collected items are sorted, lab packed and labeled by qualified staff, then transported by an approved hauler for safe recycling or disposal.
The LRRC's HHW Sorting Area is designed and intended for residential customers and quantities of hazardous waste (less than 20 L). This site is not intended to service hazardous commercial and agricultural waste.  Any quantities of chemicals, oils, pesticides, herbicides, and other hazardous waste greater than 20 L may be rejected or surcharged at the discretion of landfill staff.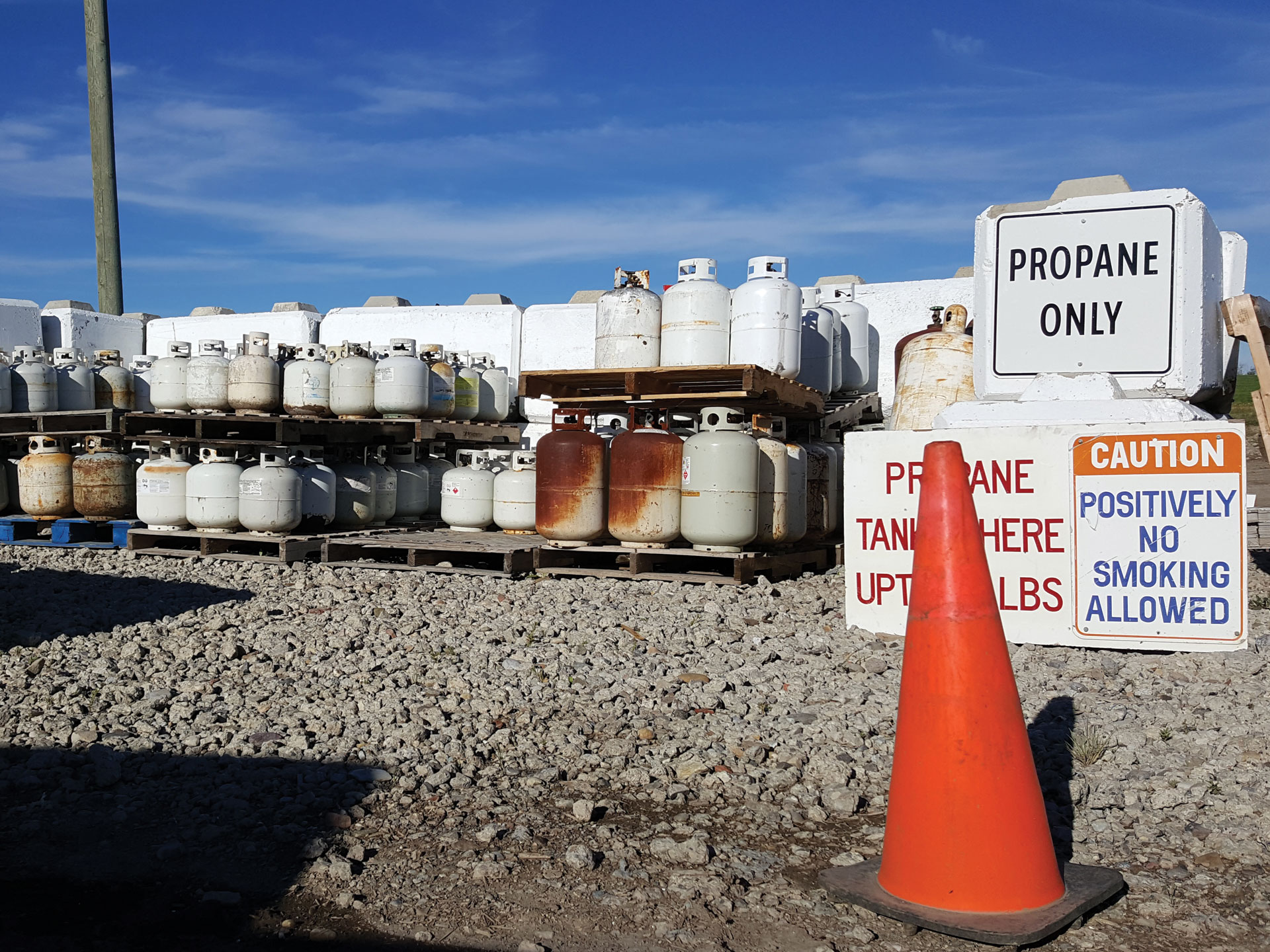 HHW Rate Summary
Due to the unique nature of every load of HHW, all pricing is at the discretion of trained LRRC staff, who will notify the customer of applicable surcharges after checking a load and before materials are unloaded. We advise customers to call the office before coming and discuss the types of materials and quantities for disposal, to receive a general quote before hauling materials to the LRRC. The LRRC does not make a profit on these charges, but is covering the costs for sorting, transportation, and proper disposal or recycling. All fees on paint are separate from the environmental fees paid when purchasing eligible paint and are charged at the discretion of the LRRC. General thresholds for pricing are as follows:
Paint is charged at $50 per 1 m3 plastic tote of paint or 205 L drum
946 ml cans – 500 cans fill a 1 m3 plastic tote and will be charged $50
3.7 L cans – 180 cans fill a 1 m3 plastic tote and will be charged $50
18.3 L pails – 18 pails fill a 1 m3 plastic tote and will be charged $50
Waste fuel, glycol, and used oil are charged at $100 per 205 L drum
1-2 – 20 L pails is considered residential volume and will not be charged
3-7 – 20 L pails is considered commercial volume and will be charged $50
8-10 – 20 L pails is considered commercial volume and will be charged $100
HHW that cannot be poured is lab packed into 205 L drums for safe transport and is charged at $100 per 205 L drum
2 – 20 L pails fill half of a 205 L drum and are charged $50
3 – 20 L pails fill a 205 L drum and are charged $100
<30 small to medium sized containers of HHW is considered residential volume and will not be charged
31 – 40 small to medium sized containers are considered commercial volume and will be charged $50
41 – 80 small to medium sized containers are considered commercial volume and will be charged $100
Fluorescent bulbs are charged at $2/kg
COLLECTION CENTRE LOCATION
Foothills Regional Landfill and Resource Recovery Centre
Location: Landfill Site –  Located on Highway 783, 5 km south of Highway 7
For more information: 403-938-5224
COMMERCIAL HAZARDOUS WASTE
The Alberta Recycling Management Authority (ARMA) oversees environmental fees and funding for proper disposal of HHW in Alberta. Funding from ARMA is designed to deal with residential volumes of HHW. The LRRC does not accept commercial quantities (greater than 20L) of hazardous waste, without surcharges, and may reject some ARMA ineligible materials. Commercial hazardous waste can be picked up by private hazardous waste companies for proper disposal and recycling. Click on the link below for ARMA's website.
Some commercial quantities may be accepted at LRRC staff's discretion, but will be surcharged to pay for the disposal costs. HHW surcharges range from $50-$100 and may be applied multiple times, depending on volume. Large drums of unlabelled chemicals are surcharged $450 for disposal costs. Commercial hazardous waste generators are encouraged to arrange private pickup and disposal of their waste.
AGRICULTURAL HAZARDOUS WASTE
The LRRC accepts triple rinsed pesticide containers at no charge, through the Clean Farms collection program. All other pesticides, herbicides, chemicals, vaccinations, hormones, and other hazardous agricultural waste must be disposed of through private company options, or taken to UFA roundups.
ENVIRONMENTAL PROTECTION AND ENHANCEMENT ACT:
191- Except in accordance with a regulation made under section 193
no person shall consign or transport or accept for transportation, storage, treatment or disposal any hazardous waste unless the waste is accompanied with a manifest that
(a) is completed in accordance with the regulations,
(b) accurately identifies the quantity, composition and points of origin and destination of the hazardous waste, and
(c) contains the personal identification number of each person consigning, transporting or accepting the waste.
Transportation of Dangerous Goods – Carrier Responsibilities:
A carrier is defined as a person who, whether or not for hire or reward has possession of dangerous goods while they are in transport. A carrier must not take possession of a shipment of dangerous goods unless they have a shipping document for the dangerous goods. If the carrier accepts an electronic copy of a shipping document then they must produce a paper copy to carry with the shipment [Section 3.2]. If the dangerous goods are passed to another person, the carrier must provide a copy of the shipping document to that other person who could be another carrier or the consignee (final receiver) of the dangerous goods.
Safety marks are the placards, labels and package markings which identify dangerous goods shipments. Anyone who offers for transport, transports or imports a means of containment that contains dangerous goods must display the safety marks required by the TDG Regulations [Section 4.1].
ACCEPTABLE HOUSEHOLD HAZARDOUS WASTE MATERIALS (A-F)
Abrasive cleansers




Acetone




Aerosol paints and sprays




Air fresheners (aerosol)




All-purpose cleaners




Ammonia




Ant/wasp spray




Antifreeze




Auto body filler




Barbeque starters




Bleach




Brake and transmission fluid




Butane refills




Carbon tetrachloride




Car (lead-acid) batteries




Car waxes and polishes




Contact cement




Degreasers




Disinfectants




Drain cleaners




Fabric softeners




Floor wax strippers




Fungicides




Furniture polishes and waxes
ACCEPTABLE HOUSEHOLD HAZARDOUS WASTE MATERIALS (G-P)
Gasoline




Glass cleaners




Glues




Hair coloring




Hair perm solutions




Hair sprays (aerosol)




Insecticides




Kerosene




Laundry starch




Laundry stain removers




Lighter fluid




Liquid cleansers




Lye




Mildew removers




Muriatic acid




Nail polish and remover




Oven cleaners




Paint thinners and strippers




Paints




Photographic chemicals




Propane gas cylinders
ACCEPTABLE HOUSEHOLD HAZARDOUS WASTE MATERIALS (Q-z)
Rechargeable Batteries




Rubbing alcohol




Rug and upholstery cleaners



Rust removers

Septic tank degreaser

Shoe polish


Silver and brass polish




Spa and pool chemicals

Spot removers



Toilet cleaners

Tub and tile cleaners


Turpentine, varnish, lacquers

Used oil

Weed killers

Windshield washer solution


Wood preservatives